IVR System Design for Mysore ITS
Purpose of IVR System on ITS System
The purpose of the Mysore ITS Interactive Voice Response (IVR) system is to provide responses to the KSRTC bus customer queries through pre-recorded messages to the extent possible. The IVR System is expected to save time, manpower and money for KSRTC. The system will provide information in Kannada and English specific to Mysore bus operations and will be accessible from mobile or landline phones.
IVRS Flow chart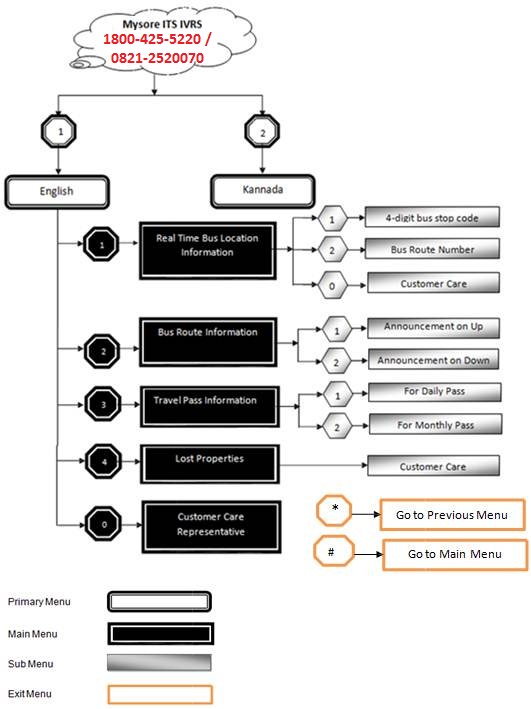 How Mysore ITS IVRS works
1. Dial 1800-425-5220 or 0821-2520070
2. Based on the incoming call it directs to nearest Public Transit help line. In Mysore, it will connect to the Mysore Public Transit Help Line.
3. Once the call is connected in Mysore, the IVRS will say: "Welcome to the KSRTC Mysore Mitra Services Help Line".
4. At any point, you can Press * to go back to previous Menu or Press # to go to Main Menu.
5. Press 1 to continue in English or Press 2 to continue in Kannada.
6. For Example commuter presses 1. (For English language selection).
7. For real-time bus arrivals stop, please press 1.
Press '1' If you know the 4-digit bus stop code, please enter now.
Press '2' if you know the route number.
Press '0' if you don't know the code.
After commuter enters the bus stop code, the system announces the buses that will arrive in the next 15 minutes at bus stop.
For example: Route no 62 bound to Ramakrishna nagara in 3 minutes, Route number 303 bound to KRS in 7 minutes, Route number 266 bound to Yelwala in 12 minutes, Route no 135 bound to Ramakrishna nagara in 12 minutes, route no 201 bound to Chamundi hills in 14 minutes.
'0' will connect to the customer care representative.
8. For information about bus routes, please press 2.
Please enter the bus route number.
For example commuter presses 303. IVRS says, Route number 303 starts at Central Bus Stand and bound to KRS Dam. If you would like to hear the stops from CBS to KRS Dam please press1. If you would like to know the stops from KRS Dam to CBS please press 2. There will be issues with routes like 62A, 62B and 62C in IVRS since they will have the same key press. Need to think of ways of fixing this.
9. To hear about Travel Pass information, please press 3.
IVRS will say
For example,
1. Press 1 for Daily Passes
Volvo Rs 96/- per day
Ordinary Rs 50/- per day
2. Press 2 for Monthly Passes
City Rs. 620/-
Suburban Rs. 820/-
Volvo Rs.1087/-
Note:ID Card Rs 50/- per year
10. To report lost or stolen properties, please press 4.
Please press 1 to get the procedure to log complaints on website or please press 0 to talk to the customer care representative.
11. If you would like to talk to our customer care representative, please press 0.
Note:
Tan: Primary Menu, Red: Main Menu, Green: Sub Menu, Orange: Exit Menu, Blue: IVRS Speech.
Roles and responsibilities of customer care representative:
1. Must know about overall ITS application features.
2. Provide Bus stop code with respect to Bus stop names to commuters.
3. Help commuters with property loss.
4. Collects lost property information from KSRTC officials.
5. Log customer complaints.